Plug Power continues to meet all of my personal 'earnings season' expectations. They're growing their customer base and satisfying those customers. At the same time, they're meeting their steadily-increasing sales targets while increasing the size of their addressable market.
In the past, wherever I told people my personal 'earnings season' expectations for Plug, they would usually come back to me saying, "That's all good, except that Plug Power sells their product suite at a loss." Prior to this last quarter, Plug only achieved positive gross margins one time in history. . . and that time the margins were just north of 100k positive (so relatively negligible). This last quarter, however, Plug Power finally proved that they can sell their product suite to customers for a considerable profit. The company reached a gross margin of nearly 7% positive, and they reiterated their mid-term goal of ~30%.
Now that Plug has finally achieved considerable positive gross margins, people are instead asking me when I think Plug Power will turn a profit. I don't know that answer. Here's what I do know, though:
SG&A costs have been stable for the last three quarters, proving that the company has reached a 'critical mass' within their administrative structure.
The company can achieve positive gross margins, which they did this past quarter.
Plug has achieved record revenues four out of the past five quarters. So they are, in fact, increasing their revenue nearly every quarter (this is in spite of the larger mix of cheaper Class-3 GenDrive orders).
With stable SG&A and positive gross margins, it all comes down to increasing those gross margins and growing their revenue. For Plug's current administrative structure, the chart below shows what numbers the company will need to achieve in order to become EBIDTA positive. So if you're wondering when Plug will become profitable, just look at the chart.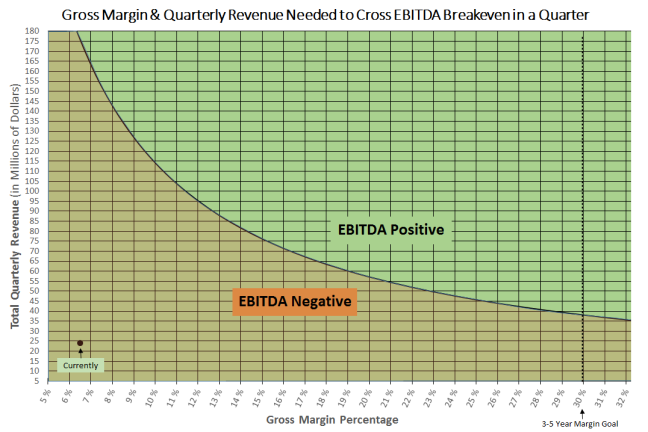 With that out of the way, let's talk about my takeaways from Q2.
Hypulsion Acquisition
In late July, Plug took over complete control of Hypulsion (now Plug Power Europe), their European joint-venture with Air Liquide. The European market for Plug Power fuel cells is larger than the market here in the United States. . . and from this point forward, Plug management expects growth to occur much quicker in Europe than it did in the United States. I am inclined to believe them, and here's why:
Plug already has the European certifications required to put their product in nearly any forklift within the EU. Even better, they obtained those certifications at zero cash cost.
European labor costs are higher than labor costs in the United States (where Plug Power products are currently gaining the most traction). . . and one of Plug's main value propositions is their products' ability to reduce labor costs (by eliminating battery swaps and other related inefficiencies). The chart below shows how Europe contains twelve out of the thirteen countries with higher manufacturing labor costs than the United States.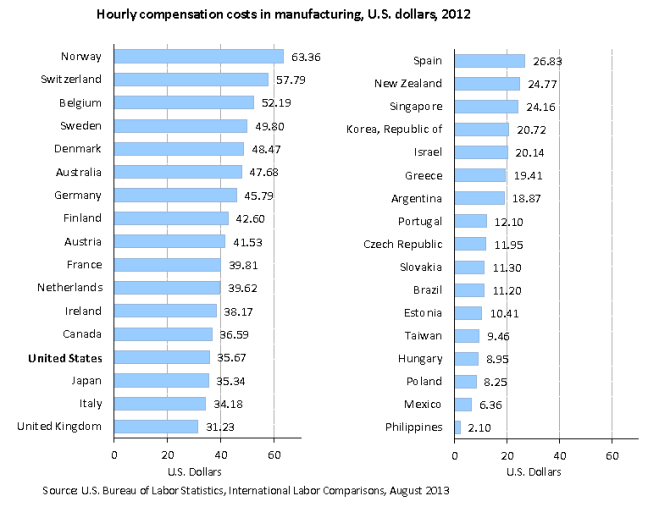 Plug Power Financing
Plug Power's revenue projections continue to suffer from revenue-recognition issues stemming from their sale-leaseback transactions with banks. Plug hopes to clear-up these issues by bypassing the banks and providing their own financing packages to customers. Not only would these financing packages put an end the current revenue-recognition issues, they would allow Plug to quickly close deals with a wider range of customers. Companies that don't have the means or desire to pay up-front for GenKey will soon have the option to include quick financing within the GenKey deal itself. This is crucial to landing small-cap costumers, a tier of customers that can substantially increase Plug's serviceable available market. GenKey has been a huge success in its current form, and adding a financing package to GenKey will likely make deals even more streamlined and popular. Also, Marsh has shown us numerous times that he will not offer a new product unless there are customers lined-up and ready to utilize it, so I expect more of the same with Plug Power Financing.
Developments Regarding Hydrogen Fueling for Smaller Sites
We have plans for [small-site GenFuel fueling systems] today which are simpler and easier. And what probably really excites me is the work we have ongoing to have an offering that can dramatically change the game for us. By the end of the next year I think you'll see this first generation system which is better than anything else out there, and the next one is going to be even better.  — Andy Marsh
Early in the year, Plug emphasized that they would put a large focus on hydrogen fueling in 2015. We haven't seen any PRs on this front, but it's safe to say that the company is putting a strong focus on hydrogen behind the scenes. During the second quarter conference call, Andy Marsh highlighted that they already have a second generation small-site reformer/electrolyzer system in the works even though the first generation system has yet to be released. Plug has a lot of proprietary reformer technology sitting around from their early days, so I'm excited to see if Plug intends to put this IP to use within their upcoming small-site systems.
Yes, it does appear that Plug is currently putting a larger focus on small sites, but I'm alright with that. 'Small sites' include retail stores for Home Depot, Walmart (Sam's Club), and presumably a lot of customers eventually brought-in by Plug Power Financing. 'Small sites' also include hydrogen fueling stations for cars. Every one of these small-site groups has the potential to increase Plug Power's serviceable available market quite substantially. . . and providing fueling systems to these small sites sooner rather than later increases Plug's domination of the hydrogen market before competitors even surface.
Impending PR for a New Membrane Supplier
I found it interesting that Marsh specifically mentioned an impending PR for a new fuel-cell-membrane supplier. Plug currently uses expensive platinum for the membrane within its fuel cells. The only reason to PR a new membrane would be to highlight some new technology or a much cheaper source of platinum. Either one of these developments would likely reduce the cost of building a fuel cell substantially, further increasing Plug's gross margins. This is all speculation on my part, so I'm excited to see what develops (if anything).
Plug Continues to Meet All Bookings & Shipments Goals
Even though Plug falls short on meeting their revenue projections (due to revenue-recognition technicalities), they continue to meet their bookings goals and product shipments goals. Now that Plug makes money on every GenKey deal they close, execution on deals becomes more important than revenue predictions. More deals equal more shipments, and more shipments equal more money. Plug is projecting massive growth in bookings over the coming years, and if history repeats itself, they will meet these goals (even though they'll likely continue to miss revenue targets, based on history).
The Plug Power sales team continues to be a strong point within the company. Now that the Hypulsion deal is closed, Plug finally has their own sales team on the ground in Europe. I'm interested to see how they perform, and I hope to see them exceed expectations as they have here in the United States.
GenData
Being an engineer, I'm a huge fan of data collection. As we've known for a while, Plug implements data collection and analytics within its GenKey products. Not only does this data help foreshadow/prevent failures, but it provides data to improve future products. Additionally, the data gathering is proprietary, making customers less likely to move away from Plug Power systems as long as Plug continues to show that this data improves product lifespans (which they have been showing thus far).
Other Noteworthy Items
By the fourth quarter, the majority of Class-3 GenDrive products will contain Plug Power's own ReliOn stacks. Plug is moving even faster than they originally planned on this front.
Plug is on target to begin rolling-out their own liquid-cooled stacks by the fourth quarter. They have not pushed-back this target since it was first announced last year.
Plug is currently able to build 800 units per quarter utilizing less than one shift. Through more process and design improvements, Marsh estimates that they can get the current factory up to 5,000 GenDrive units per quarter, which exceeds the 3,000 to 4,000 units the plant can currently output.